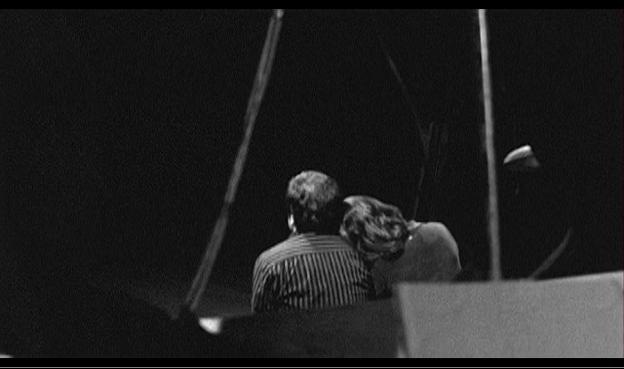 Les acteurs amoureux
Fiction, Super 16mm, Noir et blanc, Français, 2007, 15 min. 20 sec.

Interprétant un couple lors de répétitions d'une pièce de théâtre minimaliste, deux acteurs décident de perpétuer le jeu amoureux à l'extérieur de la scène. À force de jouer, l'ambiguïté s'installe entre eux.


---
Actors in love
Fiction, Super 16mm, Black-&-White, French w/ English subtitles, 2007, 15 min. 20 sec.

Featuring as a couple during rehearsals of a minimalist theater play, two actors decide to continue playing a love game outside the stage. While playing, their relationship becomes ambiguous.


---

Regard sur le court-métrage au Saguenay
Proje(c)t-Y - Festival de cinéma universitaire /
*Mention spéciale du jury pour l'interprétation des acteurs
Festival enRoute du film étudiant - Air Canada
Young Cuts Film Festival
Mel Hoppenheim School of Cinema Film Festival – Best of the Fest /
*Technicolor Award - Cinema Awards Ceremony


---

Scénario & réalisation : Jean-Guillaume Bastien
Interprètes : Nico Gagnon, Brigitte Pogonat
Directrice de production : Becky Korman
Assistant-réalisateur : Pierre-Marc Drouin
Directeur de la photographie : Robbie Purdon
Caméra : Raphaël Rainville
Assistante-caméra : Carolyne Goyette
Son : David Marriott
Perchiste : Jeffery Chong
Éclairagiste : Roberto Lobel
Direction artistique : Bronwen Marsden
Scripte : John Arcobelli
Montage : Simon Lamarre-Ledoux
Montage son : Glauco Bermudez
Musique : Jean-Miguel Tremblay (StudioMig)
Mixage sonore : Tim Horlor
Montage en-ligne : Marcus Von Holtzendorff